What is a marketing campaign?
The formal definition of marketing campaigns are organized, strategized efforts to promote a specific company goal. While a campaign is defined as a connected series of operations designed to bring about a particular result. But what does that really mean?
When planning a marketing campaign, it's important to follow a consistent theme and promote a single or focused idea of goal. The goal can be promoting a new product, increasing brand awareness, gathering customer feedback, boosting engagement, lead capturing, advertising an upcoming event, etc. Determining a goal will help guide the rest of the process.
What can campaigns do for your business?
Here at Oh Hello Branding Group, we do something called inbound marketing. Inbound is a method of attracting, engaging, and delighting people to grow a business that provides value and builds trust.
Attract: Earn people's attention, don't force it. Attract visitors with useful content and eliminate barriers as they try to learn about your company.
Engage: Open relationships, don't just close deals. Enable buyers to engage with you on their preferred timeline and channels. Tie sales incentives to customer success not just the close rate.
Delight: Tie your success to your customers. Shift resources to be more effectively distributed throughout the entire customer experience.
An inbound marketing campaign often aims to reach customers in a variety of ways and involve a combination of media. Inbound marketing campaigns are centered around the customer, taking every stage of your buyer's journey into account to generate new, interested leads, and turn them into happy customers through relevant, compelling content.
Inbound marketing integrates tools to weave context about a lead into every channel and every tool. The result is a smooth, personalized experience for buyers and better results for marketers and salespeople.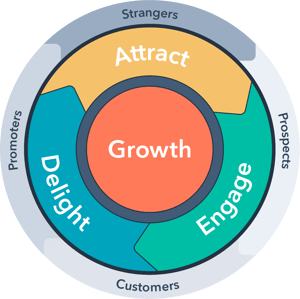 What is included in a marketing campaign?
There is a lot more that goes into a marketing campaign than people realize. You don't just put out a piece of content and move on to the next project, there is a whole list of other actions needed to promote the campaign.
1. Create the piece of content
The first step is creating the main part of campaign. Of course, if you aren't doing a content marketing campaign, it might look a little different but most of the time you need to create a piece of content. Whether it's a video, infographic, or template – it's important to take time when creating this because this is what is drawing in prospects.
For example, if creating an ebook, you'll need to research the topic, write the copy, edit the copy, gather pictures, find outside content to hyperlink into the ebook, and use a graphic designer to make it a finished product.
2. Create a landing page
The second step would be to create a landing page. The landing page is a standalone web page created specifically for a marketing campaign. It appears after clicking from a search engine result, marketing email, online advertisement, or marketing promotion.
The landing page should include a description of the content that displays value and pictures that make the page visually appealing. It also normally includes a form. The form is where people enter their information in order to download the content offer. This is how leads are formed, because now you have their name, email, company name, phone number, address, etc. depending on what you include on the form.
3. Set up a thank you page
The thank you page is where your visitor lands after they have filled out the form, where they can actually download the offer. The thank you page is pretty straight forward. It confirms that their submission went through and offers them access to the content. Have a clear button or link for them to download and also offer a secondary piece of content that they can explore.
4. Write a follow up thank you email
The following step would be to set up a follow up email that goes out to anyone who filled out the form. This email thanks them again and also offers another way to access the content. That way they can always go back to the email to refer to the piece of content.
5. Write a blog post
Blog posts are a great way to promote your piece of content. The blog post relates to the topic or gives a preview of what is included in the content offer, with a clear CTA included at the end. Blog readers will then follow the CTA button or link to the landing page.
6. Make social media posts
Another way to promote the content offer is through social media. Scheduling out social media content should be done all at once. Creating unique posts for each social media platform is important as each platform is different. Include a link to the landing page in the post.
Depending on the campaign, you can schedule posts in different ways. It should be promoted heavily immediately after launch but it's important to bring attention back to the campaign eventually. You can schedule out social posts for another point in the year, six months down the line to remind people about the campaign. If you can relate it to a specific time of year or holiday, that's even better. Or if it is a really big piece of content, you can promote it once a month for the entire year.
7. Send a promotional email
To continue to promote the campaign, a promotional email should be sent to a contact list that might be interested in the content offer. Crafting the perfect subject line and preview text while also adding personalization tokens are all needed to help with the open rate. Again, a description of the offer should be included that clearly demonstrates value to the customer. A CTA should be included that links to the landing page.
8. Embed CTA's on appropriate web pages
Another important step is placing CTA's on other website pages, blog posts, newsletters, resource libraries, and emails. That way more people can be directed to the landing page who are interested in your other content.
9. Paid ads
Although not always necessary, you can use paid ads to help promote your campaign. Facebook ads, LinkedIn ads, Instagram ads, Google search ads, Google display ads, YouTube ads, etc. are all ways to increase traffic to your landing page. Depending on what ad you choose, it also takes time formulating and creating those ads. But again, you don't need paid ads to have a successful campaign
10. Analyze
The last step is to dig into the metrics to see where optimization can happen. Review the CTA's, landing page, email, blog posts, ads, and social media analytical tools to see what performed well and what can use some tweaks.
To learn more about content marketing and how each component of a campaign benefits your business, download the complete guide by filling out the form below:
Download the Marketing Campaign Guide: